At Dr. James W. Reed's Office, we are pleased to offer a wide range of optometry services for our community! Our experienced optometrists can provide you with thorough eye evaluations, determine if you need corrective lenses and your exact prescription strength, fit you with the appropriate specialty eyewear, and help you pick out the most flattering pair of glasses for your face shape and skin tone.
Our new patient appointments always begin with a comprehensive eye exam. If you are unsure of your family's eye health history, it's helpful to research beforehand, so we can better evaluate your own eye health. If you have never had a comprehensive exam, don't worry! All the tests and exercises are simple and painless.
Medical Services
Our eye examination can detect glaucoma, cataracts, macular degeneration and many other eye conditions. We can treat conjunctivitis, eye infections, dry eyes and allergy eye conditions. We can remove foreign bodies and particles from your eyes. We offer a dilated retinal exam to monitor diabetes, hypertension, high cholesterol and offer Digital Retinal Photography for documentation and study.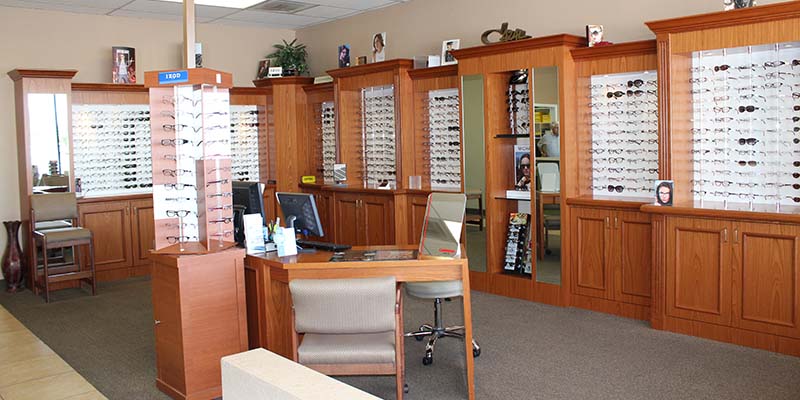 Children's Eye Care
All children have complete medical examinations at their pediatrician's office during their first five years of life. They are required by the school district to have another complete physical prior to entering kindergarten. Many times there are undiagnosed vision problems that go undetected, resulting in decreased performance at school.
Learning in the first 11 years is 80% vision related
20% of children between 5 and 12 years old have vision problems that could affect their learning ability
The visual system is neurologically developed by the age of nine
Over 40% of high school students have vision problems, yet they continue to be undiagnosed
It is extremely important to begin child eye care at an early point in their lives. It is recommended that the children have their first examination around three years of age. After that point, Dr. Reed will consult with the parents as to the next needed appointment.
Some of the indications of visual problems in your child:
Headaches, especially during school or reading activities
Rubbing their eyes
Losing place while reading
Covering one eye or squinting
Poor reading ability, not up to grade level in school
Word reversal, beyond 7 years of age
Holding reading material too close to eyes
Reports blurry vision, at distance or near, constant or periodically
Any of these above indications would facilitate a routine examination.
Comprehensive Eye Examinations
When was the last time that you had an eye examination and felt all of your questions have been answered? Dr. Reed takes the extra time to answer any and all of your questions. If you have additional questions, after your appointment, he recommends that you call the office and speak directly to him or one of his staff.
Our basic exam includes:
Personal and family medical history
Distance and near visual acuity check
Color vision screening
Depth perception testing
Computerized lens analysis of current prescription
Auto-refraction and Auto-keratometry
Strabismus screening
Neurological pupil screening
Determination of best correction for glasses
Binocular near point testing
External ocular health evaluation
Internal ocular health evaluation
Glaucoma pressure testing
Consultation
Follow up care as needed
Dilated fundus examination if necessary.
State of the art instrumentation for Ocular Health Assessments, including Cataract, Glaucoma and Retinal evaluations
Make an Appointment Online!
Schedule your eye exam today by requesting an appointment online or by calling our office.